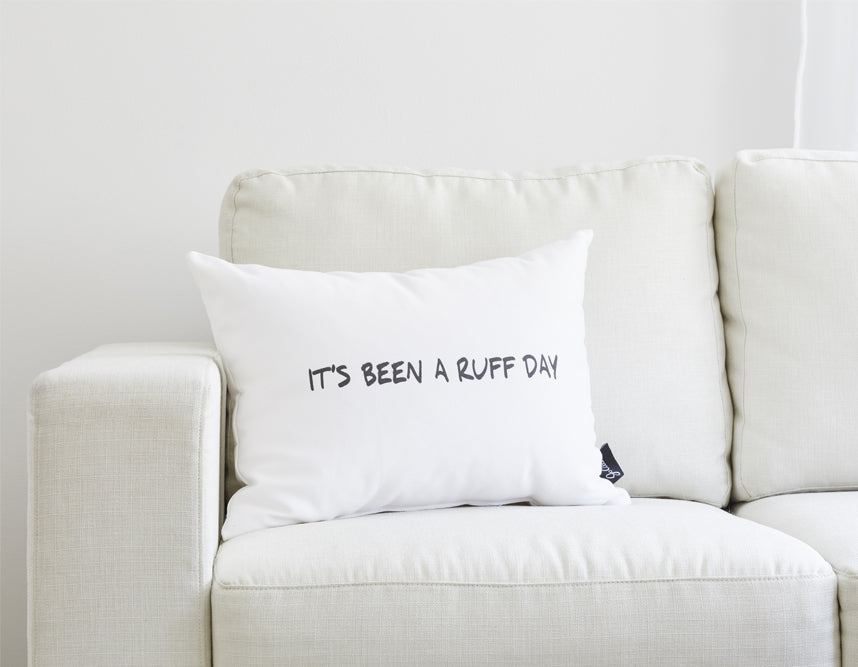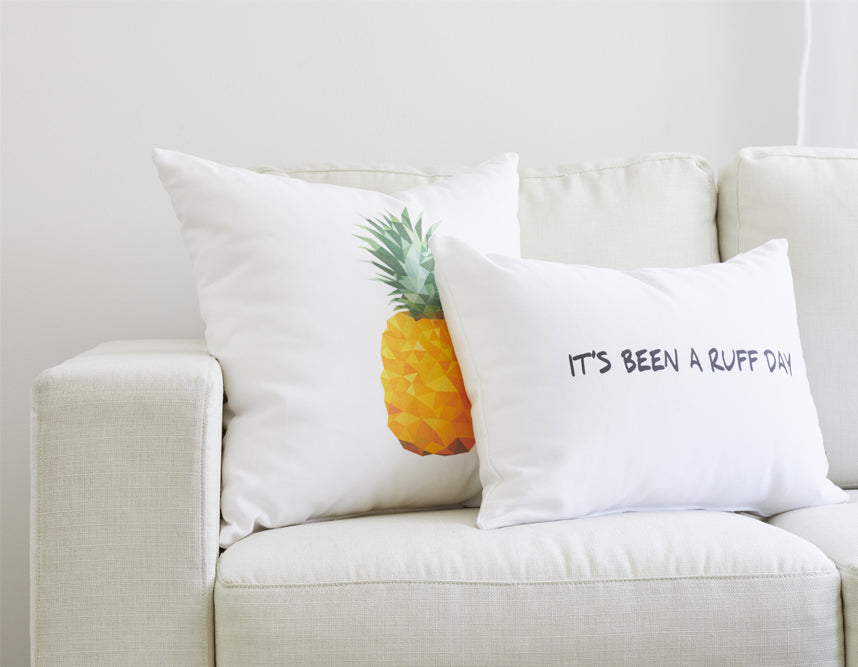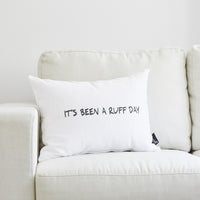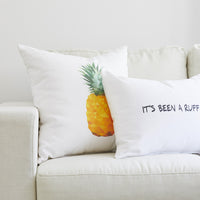 It's Been a Ruff Day Pillow
Handcrafted Down Alternative Designer Pillow Line, you can now have fashionable designer pillows without any worry. Fashion and Function come together! 
Details:
Fully Washable No Need to Remove a Cover
Hypoallergenic
Dust Mite Control
Gentle Wash
Animal Cruelty-Free Fill
Sustainable
North American Made.
The Jo Alcorn brand believes every household should enjoy luxury at an affordable price, well put together designer looks, with pieces that survive and thrive even in the busiest lifestyles, while being sustainably conscious.
Children and Pets are a huge part of our family life and homes. With the Jo Alcorn Fully Washable Pillow Line you can now have fashionable designer pillows without the worry. With graphic patterns and trendy fabrics, the collection now becomes a designer accessory in any area of your home, no matter how crazy your family's lifestyle can be. Live life with fashion and function.
Routine Care
Occasionally pillows/blankets can be reflufffed in a tumble dryer at the WARM or PERMANENT PRESS setting for 10 minutes. For optimum product life and maximum comfort, products should be re-fluffed daily by:
Grasp opposite ends of the product with both hands and vigorously shake it back and forth up & down.
Grasp the other 2 sides of the product and repeat step
For pillows, pat into a high crown shape with your hands as necessary.
Laundering
Detergents:
All commercial and home laundry detergents are approved for use as long as the manufacturer's instructions are followed.
Machine Washing:
Wash separately, at WARM or PERMANENT PRESS setting. Always balance the load. For best results, use a front loading washer.
Machine Drying:
Tumble dry at PERMANENT PRESS setting. Note: Pillows may take a few hours to dry depending on your machine. For additional agitation, place clean tennis balls in with pillows. Maintain dry cycle until the pillows are light and fluffy. If necessary, air dry, (cool down) for an additional thirty to sixty (30-60) minutes, depending on your equipment. NEVER leave your pillows or blankets in a dormant dryer after the drying cycle is over. Use the cool - down cycle, or remove the article(s) immediately from the dryer.
What is in Alcorn Home pillows / beds / bedding?
We use a Stamina Fibre that we call natures clone because it is the closest thing to a synthetic down. StaminaFibre™ is a unique, patented filler with all the well-known advantages of down and none of its drawbacks. StaminaFibre is a true down alternative.
Are the pillows / pet beds / bedding washable?
The only pillow, dog bed and bedding on the market that is designed to be washed frequently. StaminaFibre will out-last most other products on the market. We recommend you wash your pillows, dog beds and bedding once a month.
What is the fibre used in the pillows / pet beds / bedding made of?
StaminaFibre™ is a proprietary blend of polyethylene and polypropylene, which is then processed through our custom-made Hammermill machine which gives StaminaFibre™ the feel and performance of Down.
Where are Alcorn products made?
All Alcorn designer products are proudly handcrafted in Mississauga, Ontario, Canada.
What is the Alcorn Guarantee?
Our pillows/beds/bedding are guaranteed to return to the original shape after washing. We will replace your product at no charge should your pillow fail to recover after washing. The Alcorn Collection are the only truly washable products on the market. Please note Alcorn Home retains the right to have the final say if they believe that the laundering instructions were not adhered to, or there is unusual damage that is not consistent with normal wear.
Why should I buy a Alcorn?
Unlike down, the Fibre is a cruelty free true down alternative.
The Fibre is made for those who prefer pillows with down-like softness
Softness closest to the finest quality down feathers, but without the allergens
Soft yet resilient and with a better bounce for ultimate comfort
Highly mouldable and fluffable. Our superior blend provides the best support for the head
Suitable for those who suffers from back pain & neck stiffness
Excellent lasting loft, even with frequent washing
Hypoallergenic and suitable for asthma and allergy sufferers and children